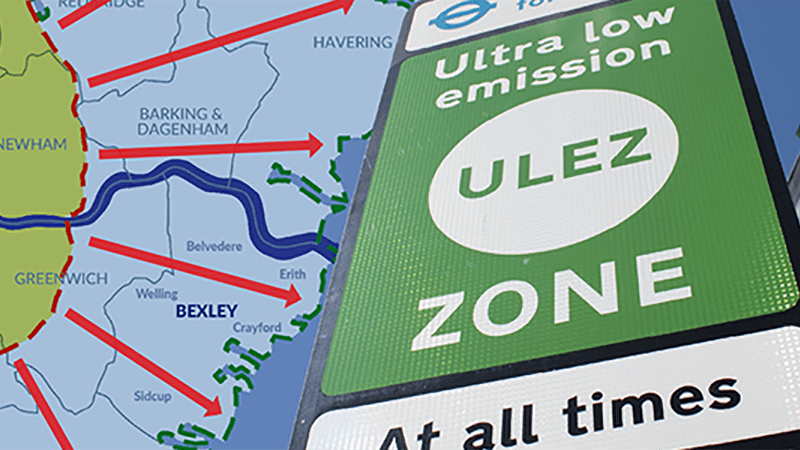 Bexley has submitted its detailed response to Transport for London's consultation on the proposed expansion of the capital's ULEZ (Ultra Low Emission Zone). It challenges the way the consultation has been presented and argues that the Mayor of London has not properly considered the implications of the proposal.
The Council says that by simply copying the approach used in central and inner London, the Mayor risks negative social and economic impacts that are likely to outweigh any benefits.
It also argues that the Mayor has not given enough consideration to alternative ideas to improve air quality that would not involve charging road users.
Read about the consultation and have your say before the deadline of Friday 29 July
Read Bexley's response to the consultation
The Council's detailed response explains that:
Bexley has a high level of car ownership due to the lack of modern public transport links serving the borough and could have over 28,000 non-compliant vehicles
key workers in sectors such as health and care who rely on their cars to visit patients will be unfairly penalised, with no exemptions or discounts offered
it will put an extra burden on Bexley's small businesses, which are particularly reliant on cars and vans
the ULEZ charge will deter people from outside the capital who wish to drive into London to work, shop, see family, friends or visitor attractions
the charge is a regressive tax, disadvantaging lower-income families who cannot afford to pay the charge or buy ULEZ-compliant vehicles
it also puts further pressure on household finances, when energy, food and other prices are rising
non-compliant vehicles are likely to be bought by people in areas outside the ULEZ, where they will continue to impact air quality and climate change
the costs of implementing the ULEZ have not been properly considered and alternative options have not been properly assessed
The Council also says that future road charging should not be implemented until significantly enhanced public transport connectivity and reliability have been achieved.
Bexley's response draws attention to the fact that the Mayor of London does not have a mandate for ULEZ expansion because it was not included in his election manifesto in 2021. By contrast, it was a key issue in Bexley's elections in May, when there was broad support for the Council's opposition to the proposal.
In its response, Bexley is also critical of the way the consultation has been carried out. It says that the survey questions are heavily loaded towards securing support for the scheme, rather than enabling a proper examination of the proposals. It does not ask if the respondent supports the scheme or would prefer alternative approaches. There is also no effort to try and understand its social and economic implications.