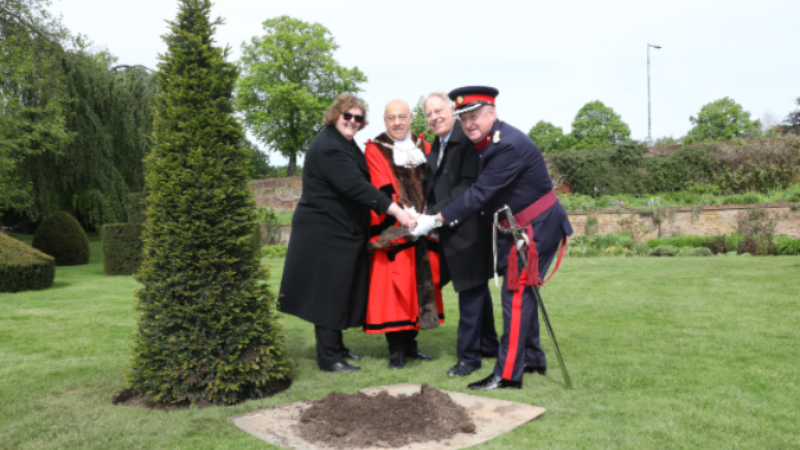 From 91 street parties to raising money for charity and volunteer work, Bexley people across the borough found lots of creative ways to celebrate the King's Coronation.
Bexley's Highways, Traffic and Infrastructure team had received 115 applications from residents to host a party on their street. In support of this, the Council waived the fees for Temporary Traffic Orders and inspections and provided road signs and cones free of charge, along with an individual map per road closure.
The Mayor of Bexley Councillor Nick O'Hare, joined by the Deputy Mayor and the Borough's Deputy Lieutenant, was able to visit many of the 91 street parties where residents held talent shows, played games, hosted competitions, and raised money for charities including London Air Ambulance.
On Sunday 7 May around 1,500 visitors enjoyed the food, live music, children's activities, and stalls in the Monk's Garden at Lesnes Abbey Woods. The Belvedere Concert Band performed popular classics while children enjoyed a Coronation Scavenger Hunt to find The Royal Mint's lost coins.
At Foots Cray Meadows, a local volunteer group held an information event as part of 'The Big Help Out' Coronation weekend celebrations on Monday 8 May. 'The Friends of Foots Cray Meadows' shared information on their volunteering activities, including river restoration work, tree planting, woodland management, and litter picking.
On Monday 15 May, Hall Place welcomed the Leader of the Council, Cllr Baroness O'Neill of Bexley OBE, Mayor of Bexley, Cllr Nick O'Hare and the Borough's Representative Deputy Lieutenant, Dave Easton JP DL, to plant a tree, in commemoration of the coronation of King Charles III. The planting was attended by Rt Hon Sir David Evennett MP and Crayford Ward Councillors, Cllr Geraldene Lucia-Hennis and Cllr Melvin Seymour.
This new tree, a English Yew Taxus baccata, is planted in close proximity to the wonderful Queen's Beast Topiary. These were planted in 1953 to commemorate the coronation of the then King's mother, the late Queen Elizabeth II.
The tree takes pride of place and will be carefully looked after by the Hall Place gardens team in the years to come, to hopefully grow to the same heights and stature as the current topiary.