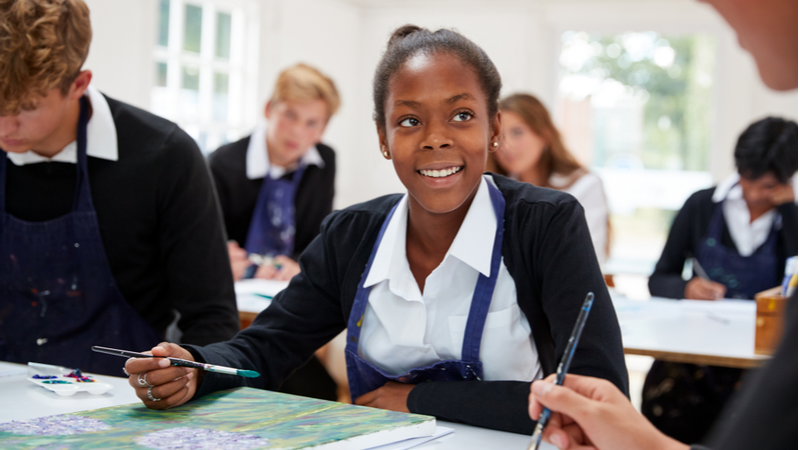 Creative Bexley is a new Local Cultural Education Partnership for Bexley  - uniting a range of partners promoting creative and cultural opportunities for children & young people in the borough.
Creative Bexley launched in January 2021 and receives investment through Challenge London, A New Direction's four-year partnership investment programme supporting cultural education across our city.
Our vision is a sustainable partnership that provides three key activities:
to create a way of sharing opportunities (and practice) with the schools and young people in the borough in a timely and efficient way
to build a sustained connection between arts and cultural activity in schools and beyond it, so partners and educators can build projects in genuine partnership
to build the capacity of teachers and young people through professional learning and supporting schools in achieving Artsmark and embedding Arts Award into their schools.
We want to build on the strong community links and inclusion focus for Bexley, making sure that cultural and creative opportunities respond to what children and young people need. Through raising the profile of Artsmark and Arts Award, we hope to build a network of Arts and Cultural Learning Champions in Bexley schools.
Our partners include a diverse range of organisations that champion a range of arts and cultural activity, rooted strongly in the local community; these are Odyssey Trust for Education (lead partner), London Borough of Bexley, Bow Arts, Peabody, Three Rivers CPP, The Exchange Erith, Little Fish Theatre, Bexley Music Hub, TACO!, ArtsTrain, National Opera Studio (Diverse Voices), Woolwich Contemporary Print Fair (Young London Print Prize), Rose Bruford and London South East Colleges.
At the heart of the Odyssey Trust for Education is a desire to serve communities and provide a full range of opportunities to the young people of Bexley. Therefore, we are delighted to be bringing arts and culture provision to our community, knowing that such experiences have the power to transform lives."
Desmond Deehan, CEO, Odyssey Trust for Education
We are thrilled to be lead partner for Creative Bexley, and to have secured the support from the Challenge London initiative from A New Direction. There is a huge amount of potential to champion the interests, ambitions, and creative talents of young people in Bexley. With Odyssey Trust for Education as lead partner we know we can make this a reality with Creative Bexley firmly rooted in education. Over the coming months we are keen to connect with educators and artists of all forms in the borough; get in touch and share your work, your priorities and help us learn how to build a programme that enhances arts and cultural education for all young people in Bexley".
Dr Steven Berryman, Director of Arts and Culture, Odyssey Trust for Education
I welcome the partnership's exciting vision of creating a network of local champions to give our young people the arts and cultural opportunities they seek. The range and profile of the organisations involved gives me confidence that the partnership will make a real difference to arts and cultural education in Bexley's schools and colleges, and through them to the lives of the whole community."
Councillor Teresa O'Neill OBE, Leader of the London Borough of Bexley
For further information about the work of the parthership please email Dr Steven Berryman, Director Arts & Culture at the Odyssey Trust for Education or follow @BexleyLCEP on Twitter.