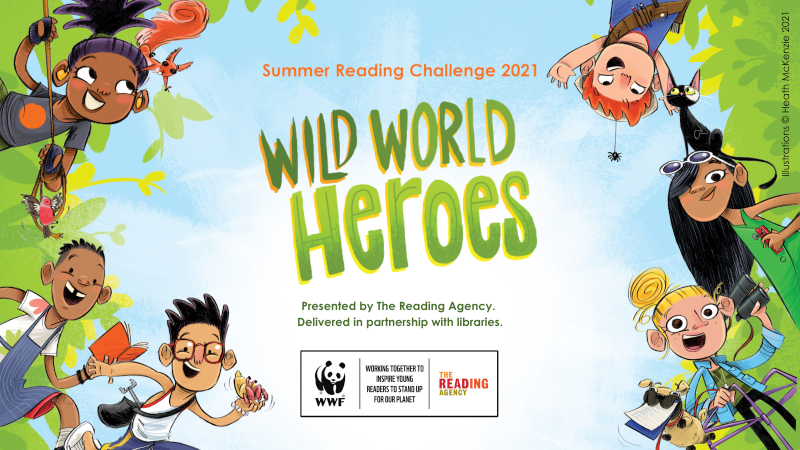 Illustrations © Heath McKenzie 2021
Local children are invited to sign up from Saturday 10 July to read six books this summer as part of Wild World Heroes, Summer Reading Challenge 2021.  
Children aged 4 to 11 can sign up at their local library, choose a reading goal (up to six books), then read any books of their choice to collect special stickers and other rewards along the way. 
Wild World Heroes is free to join in libraries across Bexley from Saturday 10 July and runs until Saturday 11 September. 
The theme for the 2021 Summer Reading Challenge is Wild World Heroes. With ideas from the World Wildlife Fund, this year's Challenge focuses on action for nature and tackling real-world environmental issues, from plastic pollution and deforestation to wildlife decline and nature loss.  
Bexley's Cabinet Member for Places, Councillor Peter Craske, said:  
With free packs from our fantastic libraries, children will be able to join six 'wild heroes' to help them to restore nature levels in the neighbourhood of 'Wilderville', all while learning about the importance of the environment. To take part just pop along to your nearest library, where you'll be given a special collector folder to keep a record of your child's Summer Reading Challenge journey." 
The Summer Reading Challenge is produced by The Reading Agency and delivered in partnership with libraries. 
Karen Napier, CEO of The Reading Agency, said: 
We're delighted to be announcing further details of this year's Summer Reading Challenge, and to have the support of our wonderful ambassadors, Dara McAnulty and Steve Backshall. We hope that this year, more children than ever will feel inspired and encouraged to sign up to the Challenge. After a difficult year for many, we are immensely grateful for the continued and longstanding support of public libraries, and we're looking forward to working closely with them to help get children reading, alongside our brilliant partners and sponsors."