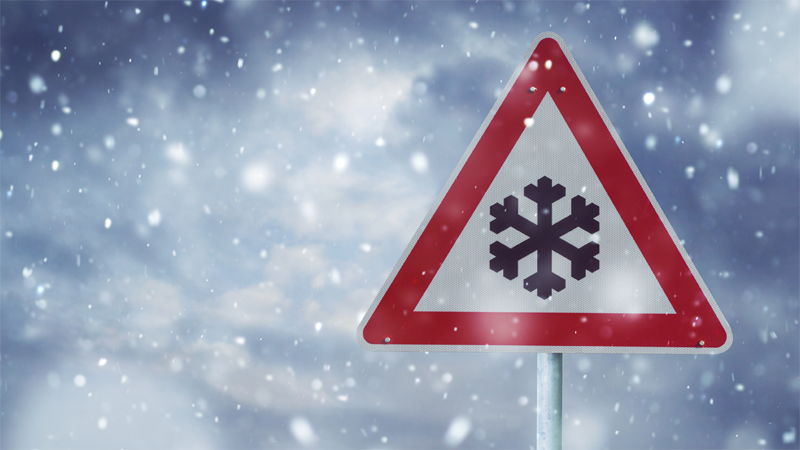 The Met Office have issued a new level 3 cold weather alert for parts of England with a 90% probability of severe cold weather/icy conditions between 9am on Thursday 26 January and 12 midday on Saturday 28 January. This means that there will be widespread ice and that the weather is cold enough to increase the health risks to vulnerable people and disrupt the delivery of services.
It is issued when the weather is cold enough to be likely to affect people's health and is triggered when average temperatures are 2 degrees or less and there is widespread ice and heavy snow.
Residents are urged to take care on the ice, with the risk of injuries and slips on icy surfaces heightened. Dress warmly, wear shoes with good grip if heading outside, and look out for vulnerable neighbours and relatives.
If you can, keep the rooms you use heated to at least 18°C, and have plenty of warm food and drinks to keep you warm. 
You can find more tips on the NHS website.
The Council has put in place procedures to protect residents during the level 3 severe cold weather alert, and these have now been activated. They include staff working in social care doing additional checks on those who are vulnerable, gritting lorries out salting all major roads in the borough, and our outreach team and partners Thamesreach going out on the streets, making sure that every rough sleeper is offered a warm bed during this cold spell.
If you see someone sleeping rough, please report this online at Streetlink London and outreach workers will go to their location to support them. You can also report this by telephone, 0300 500 0914.
Babies and children under five are more at risk in cold weather. One of the best ways to keep babies warm is to use layers. At night it is better to adjust the temperature by using a few lightweight blankets.
Cold weather can also have serious consequences for health, and older people and those with heart or lung conditions can be particularly at risk. The UKHSA advises that if you have a pre-existing medical condition, you should heat your home to a temperature that is comfortable for you. You can find practical advice on staying warm and well by visiting our Keeping warm and well this winter article.
We know that some people are finding it difficult to heat their homes. The UKHSA advises that people who cannot heat every room should warm the living room during the day and bedrooms just before going to sleep. Working with our partners we've created safe places that provide free and welcoming warm spaces for our residents.
You can find a list of free warm spaces in the borough.
You can also find advice and resources to help with the cost of living.