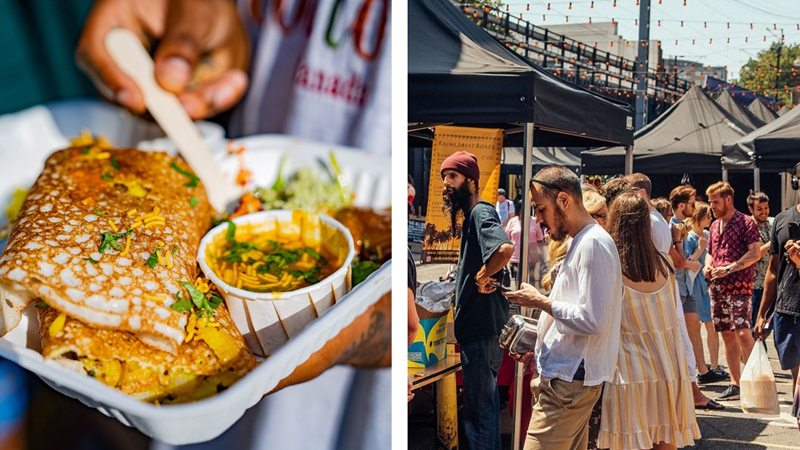 Get your weekend off to the perfect start this summer by visiting one of Bexleyheath's night markets starting from Friday 24 June.
Five market events will take place on the last Friday of each month on the following dates: 24 June, 29 July, 26 August, 30 September and 28 October.
The night markets will run between 6pm and 10pm in the pedestrianised area of the Broadway, Bexleyheath.
You'll be able to discover delicious and affordable street food, local artisan products, craft beers, cocktails and more while listening to the sounds of musicians*. There will be fun activities for the kids to enjoy while you relax into your weekend.
Councillor Teresa O'Neill OBE, Leader of the Council, said:
Now that the days are getting longer it's great that we have been able to secure this funding to provide something extra in our town centre for local residents. We hope that it will encourage more people to visit the town centre in the evening and that it will increase trade in the shops, delivering a much-needed boost to the community."
Traders will offer a range of specialist products and traditional items. Three of the market's stalls will feature products from young entrepreneurs in the Borough and this will be managed in conjunction with expert partners.
Rai Holdstock from the Bexleyheath Business Improvement District (BID) said:
We are so pleased that the funding is being used to help all businesses get back on their feet. The Friday markets will help revive the evening economy and bring the local community into our town."
London Borough of Bexley and local partners including the BID, have secured funding from the Mayor of London's High Street for All Challenge. The monthly night market event is part of a collaborative initiative to test new approaches to revitalise Bexleyheath town centre.
For more information go to Bexleyheath Night Market.
Stay up to date on the High Streets for All programme opportunities
* ancillary