We understand that for many people money is tight right now but, if you appreciate your local town centre, please consider spending more of your available cash there. It could be a case of use it or lose it!
Cabinet Member for Growth, Cllr Cafer Munur
Whether large or small, Bexley's town centres have a unique character and exciting offer.
Because each location has so much to offer, we have only been able to highlight a small sample of some of our local businesses - as an illustration of what is on offer to residents and visitors alike. To find out more, go and see for yourself!
Where town centre websites are available, we have provided these links so you can find out more.
They are run by external parties so the content is entirely their own responsibility.
The orange shapes on this map represent each of Bexley's town centres – click on any shape to find out about that town centre.
Abbey Wood Village
Abbey Wood takes its name from Lesnes Abbey Woods - a nearby area of ancient woodland containing the ruins of Lesnes Abbey Monastery. The woods are just a short walk from the Village centre.
Alongside numerous businesses, this is where you will find Abbey Wood Elizabeth Line station, with its fast connections to central London and Heathrow.
You may also enjoy a visit to The Abbey Arms, a popular local pub offering award-winning pizza and craft beers.
To find out more, visit Abbey Wood Village.
Bexley Village
Bexley Village is a great location close to the boundary with Kent. It has a quaint, winding High Street. Foots Cray Meadows are on the doorstep, yet you can be in central London in half an hour. There are also good bus links and plenty of parking.
Bexley Village has a wealth of independent and family-owned shops, tearooms, coffee houses and restaurants with cuisines from all over the globe. There are some great pubs, and the boutique, family-run Village Hotel sits in the heart of the High Street.
Bexleyheath
Bexleyheath is the borough's main town centre. Formed around a Roman road used by pilgrims to Canterbury for hundreds of years, the town still has a feel of heritage with its iconic clock tower built to commemorate the coronation of King George V, formally opened in 1912. The town is home to Red House, designed, built, and lived in by William Morris and the award-winning Danson Park, with Grade 1 listed Danson House and a 12-acre lake - with a range of water sports on offer.
The main retail area is set within the Broadway Shopping Centre and the adjacent pedestrianised zone - containing a range of independent stores, national big brand retailers and Bexleyheath's very own Morley's Department Store.
At the eastern end of the Broadway, you'll see restaurants, a  cinema, and bingo hall, Towards the west of the Broadway, there are more restaurants and bars, providing the town with a  thriving evening economy.
The town is the main bus transport hub for the Borough, with most routes passing through Bexleyheath.Trains from Bexleyheath station run into central London in around half an hour.
Bexleyheath has a Business Improvement District, which raises additional funds to support the town's success, including themed events throughout the year on the Broadway.
To find out more, visit Enjoy Bexleyheath.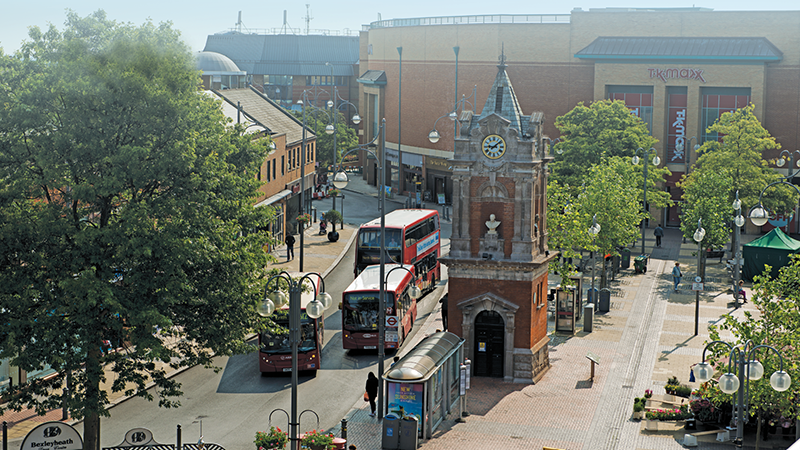 Bexleyheath Station / Pickford Lane
Bexleyheath Station sits just outside the main centre and has attracted its own fine selection of independent retailers and service providers, including grocery, health and beauty, dry cleaners, takeaways and the William Camden public house.
Blackfen
Blackfen has two key retail areas on Blackfen Road and The Oval with plenty of unique independent businesses, including a specialist menswear store, a school uniform shop, a butcher and one of the area's longest-running businesses - the J Ayre Bakery. Bus services are excellent, with train stations at Sidcup and Welling a short hop away. The Broken Drum, one of the earliest micropubs in the borough, can be found in the town.
At the centre of the town sits the bustling Blackfen Community Library, providing regular activities for every age group.
Crayford
Crayford revels in its heritage as an industrial centre. Many interesting pieces of public art celebrate links to the former Vickers armaments and aircraft factory. There are also many local references to the textile industry, which operated in the area as early as the 1600s.
Nowadays, Crayford is home to several large stores alongside smaller independent shops and businesses. The town is also home to the beautiful Cray Gardens - a quiet oasis next to the River Cray. The gardens feature the unique Lindy Lou Tea Rooms - for vintage afternoon tea and regular social events.
Crayford Greyhound Racing Track provides the prospect of an exciting night out. It is one of only two greyhound racing tracks still operating in Greater London. For a more serene escape the Tudor Mansion, Hall Place with its beautiful gardens and riverside café, are a short walk away from the shops.
Erith
With nearly half a mile of frontage on the River Thames, Erith has a long history entwined with the river. It was Henry VIII's naval dockyard in the 16th century, a Victorian tourist hotspot linked to a river steamer landing and an important manufacturing hub in the late 19th and early 20th centuries.
Stroll along London's longest public pier, hang out in the newly refurbished Pier Square, saunter through Riverside Gardens - or explore further along the Thames Path long-distance trail or National Cycle Network. For the more adventurous, the town boasts a Yacht Club and a Rowing Club.
The Riverside Shopping Centre hosts one of only three Matalan clothing stores in South-East London. There are a number of independent traders and a large Morrisons, providing for everyday needs as well as plenty of free (time limited) parking. The town has a great food and drink offer and the Erith Playhouse theatre.
The Made in Erith unit on Erith High Street displays locally crafted products. The beautiful 1906 former Carnegie Library on Walnut Tree Road plays host to 'The Bookstore' café, regular workshops, events and markets.
To find out more about what's going on in Erith, visit Welcome to Erith.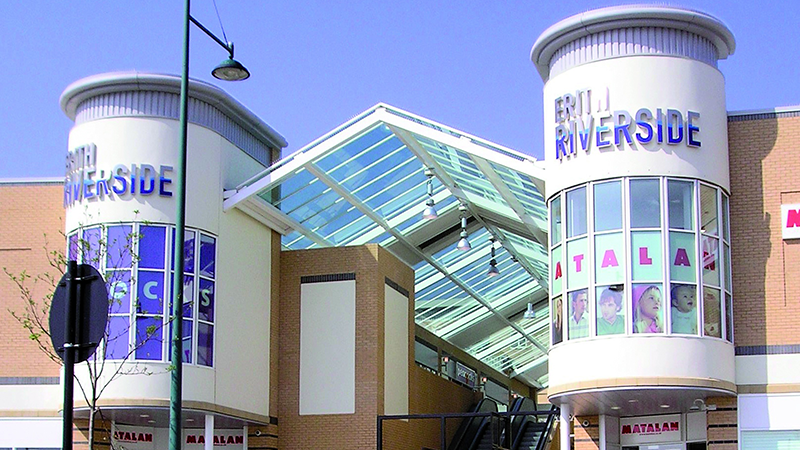 Lower Belvedere
Lower Belvedere may be one of our smaller shopping areas in the borough, but it has lots going on. The train station in Belvedere is just one stop away from the Elizabeth Line in Abbey Wood. A nearby landmark is the historic Crossness Pumping Station - built in 1865 by Joseph Bazalgette and famous for its huge beam engine and ornate Victorian decorations. Now operating as a museum, the restored building provides open days as educational visits. Find out more at Crossness Engines.
The local retail offer features Asda and Kwik Save supermarkets, B&Q superstore, a pharmacy, dentists, a vet, and a dry cleaner. There is free parking both on Picardy Street and outside ASDA and B&Q.
Northumberland Heath
Northumberland Heath is a local centre serving a residential area between Bexleyheath and Erith.
Northumberland Heath has some great pubs, including The Royal Oak and The Duke. It also has a number of cafes and takeaways, as well as a range of local independent shops and services, including a bakery, greengrocers, bike shop, post office and tattooist as well. North Heath Community Library is just off the High Street.
Sidcup and Sidcup Station
Sidcup provides the primary shopping and services destination for residents in the south of the Borough with a mix of specialist independent retailers and chain stores - as well as a strong choice of pubs, restaurants, wine bars and cafés. It also has a station with fast links to central London.
Sidcup is known as the cultural capital of the borough, with two international performing arts and music colleges: Rose Bruford College of Theatre & Performing Arts and Bird College Conservatoire of dance and musical theatre - and now also a new Storyteller Community Cinema, in the same building as the public library.
The town also has several places of interest and green spaces within a short walk from the centre, including Sidcup Place Park, the Grade II listed 18th century Sidcup Manor House, Lamorbey Park and Five Arches Bridge in Foots Cray Meadows.
Sidcup has a Business Improvement District, which raises funds from local businesses to boost the success of the town, organising a regular programme of markets and events, including the popular annual Sidcup Fringe festival, Halloween trail and Easter and Christmas extravaganzas.
To find out more, visit Sidcup Partners.
Upper Belvedere (also known locally as Nuxley Village)
This bustling local centre has a great food and drink offer, ranging from traditional British fish and chips, and pie and mash to Indian and Chinese cuisine. The small town boasts no less than five pubs, as well as the Belvedere Social Club - offering weekly Bingo and regular live entertainment.
The town has hairdressers, barbers, a florist, pharmacy, launderette, Coop, a Sainsbury's, and an International Supermarket to cater to all local shopping needs.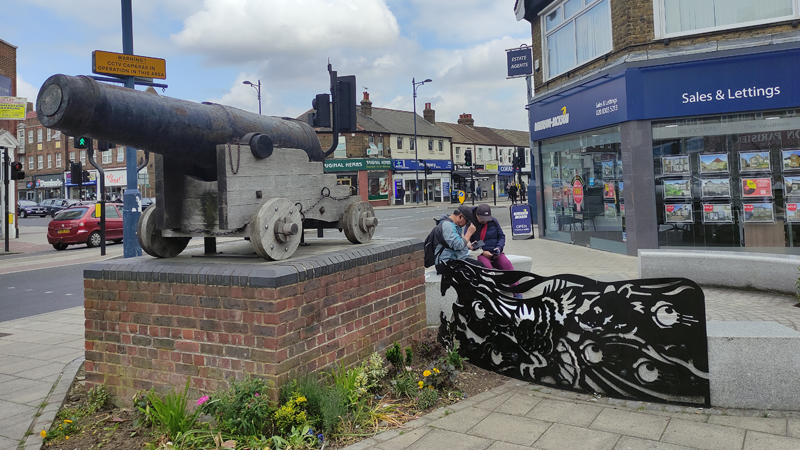 Welling
Welling's High Street is one of the longest in London. It stretches nearly a mile and includes more than 250 outlets - and features an antique Russian cannon captured in the Crimean War as well as several historic buildings.
There is a huge variety of businesses: where you can buy everything from a bathroom suite and a snake to a school uniform and a cake! There are numerous specialist retailers, including a wide-fitting shoe outlet, a record shop and a Chinese herbalist There is also Welling Public Library, which hosts a range of activities and events for children and adults. The Library also houses a co-working hub on its upper floor.
Large Tesco and Morrison superstores are on the High Street, catering for everyday shopping needs and also providing plenty of time-limited free parking. Welling is well provided for pubs, cafes, restaurants, and takeaways, catering for all tastes.
The town hosts an annual Welling Sparkle Christmas celebration, as well as several other markets and events throughout the year organised by Welling Town Business Associates and the Discover Welling residents' group.
Discover more at Discover Welling.