Your career in children's social care
We have a wide variety of social work roles in Bexley, both for qualified and unqualified staff. Working at Bexley, you will have the opportunity to develop skills and knowledge in different areas of Children's Services.
As a social worker, you can progress to a senior practitioner role in providing leadership and practice guidance to colleagues. We also offer assistant team manager and team manager roles for experienced social workers whose career aims are to progress into leadership and management roles.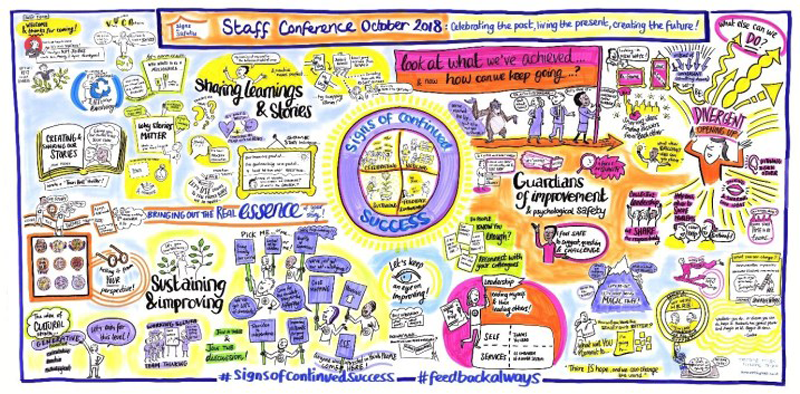 Induction
All new staff receive a comprehensive induction that includes:
an introduction to senior managers
a service overview
detailed information on service standards and expectations
and an introduction to resources available in-house and in the community
All new employees receive an Induction Handbook that contains information about Bexley Children's Social Care vision, values and practice framework.
The Newly Qualified Social Worker Academy
The Academy provides a supportive learning environment to enable NQSWs to develop and prosper through the Assessed & Supported Year in Employment (ASYE). Experienced Consultant Social Workers support the programme. They facilitate development through learning interventions informed by the Knowledge & Skills Statements (KSS) for child and the family social work and the Professional Capabilities Framework (PCF). Consultant Social Workers offer both group and individual reflective supervision and assist in the development of the ASYE portfolio. Within their teams, NQSWs are supported by their line managers who provide case and development supervision and ensure quality assurance to contribute to the ASYE assessment.
The aims of the Academy are to:
attract capable, motivated, pro-active, caring, reflective social workers to Bexley
support social workers to gain a comprehensive understanding of their role and responsibilities and understand the policies and practice standards that guide our work
support the development of strengths and relationship-based social work practice within the Signs of Safety Framework
promote evidence-based practice informed by research and grounded in theory
provide a variety of Continuing Professional Development opportunities to develop the skills and knowledge needed to deliver outstanding services to the children and families of Bexley
develop strong leadership and positive learning culture across the organisation
Learning and development offer
In Bexley, we recognise that the provision of high-quality social work services relies on a well-trained, supported, and motivated workforce. We believe that everyone in Bexley Children's Social Care should have the opportunity to grow, develop, and progress at whatever stage of their career they are. We are passionate about outstanding social work practice and committed to investing in the development of all our staff to achieve this.
We have ambitious plans for continuing to develop a learning culture in Bexley that drives up improvements and standards to deliver outstanding social work to children, young people, and families. We have worked hard to ensure our learning and development offer is mapped to the Professional Capabilities Framework and a Knowledge and Skills Statement.
The learning and development programme offers a comprehensive range of training opportunities and professional development through access to research, face to face and e-learning, coaching, and group supervision. We are committed to a 'whole system' approach - drawing on the expertise of colleagues within the organisation as well as commissioning bespoke learning opportunities from experts in the field. The learning and development offer demonstrates our firm commitment to investing in our workforce.
Leadership and management development
Firstline Leadership Programme
Children's Social Care commissions a number of places a year on the Firstline Leadership Programme. The programme is designed to develop good social work managers into high-performing and influential leaders who set high practice standards, focus on developing their team members, and who contribute to rapidly improving the profession. The Firstline programme is based on extensive research into what constitutes an excellent practice leader in children's social work settings.
Leadership and Management Workshops
Team managers have the opportunity to participate in a leadership programme to develop their leadership and management skills. The programme has been aligned with the Knowledge and Skills Statements for Practice Supervisors.
Career Progression
Career progression panels have also been introduced for level 2 Social Workers who want to progress to level 3 and for Level 3 Social Workers who are ready to progress to Senior Practitioner. Progression is through the presentation of a portfolio of practice learning and reflection.
Virtual Clinics
Conversations about race
On the final Wednesday of the month from 11.30am to 12.30pm
This workshop provides a more informal and safe space to share experiences, resources and discuss what race means to us. It is an opportunity to join with other practitioners, listen, understand, learn and explore solutions. A place where we can feel comfortable discussing what might sometimes be uncomfortable. A forum where we can begin a cultural shift from not talking about race to feeling confident to name barriers experienced and explore steps to address them. Everyone is welcome to join the discussion.
Appreciative inquiry on race
No prior Signs of Safety training is required to attend this workshop.
Once a month on Friday between 12.30pm and 2pm
Appreciative inquiry is a style of exploration that focuses on what has gone well and how this has been achieved through reflective questioning in order to support learning and development for the future. These AIs on Race are a platform for participants to reflect and learn from practice experiences around race and ethnicity. We explore issues such as unconscious bias, privilege and cultural competence and consider how these affect practice.
Wednesday wellbeing
A weekly space between 11.30am and 12.30pm on Wednesday every 3 weeks of the month for staff to have their lunch and regroup. A space to talk about how WE are, how things are going and hear from other's experiences. In this space, the focus is on us, our well-being. How is what is happening around us and in our workload affecting us and how do we establish and sustain a work-life balance? It is an informal and friendly group.
Staff Success
Watch the video's below to hear our staff talk about the great work that they have been nominated for recognition at our Employee of the Month breakfast seminar.