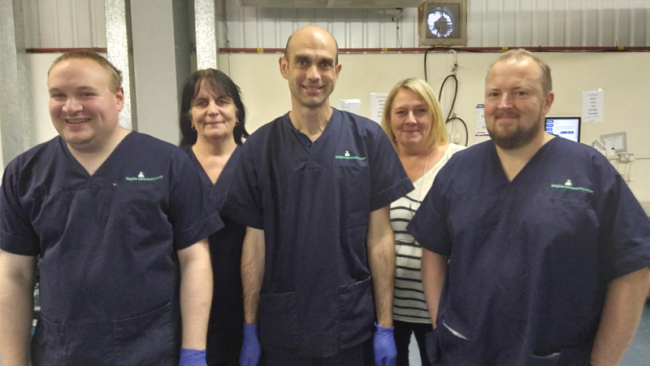 BBE News
Read how Inspire Community Trust has taken on and accommodated 4 Twofold clients
In March 2018 Inspire Community Trust employed 2 clients in part-time, paid roles at the Whitehall Lane Site. Both the employer and clients were supported by Bexley Twofold and very quickly Paul and Sam were part of the decontamination team.  Not only did they perfect how to clean the returned equipment, but they also learnt to use the scanning equipment and where all stock needed to be stored in the warehouse, Sam working 20 and Paul 15 hours each week.
As the different areas of the business merged, Sam and Paul moved to a different site (Optima Park) and were introduced to a new team and a larger environment, now working as part of the Inspire Medicare services.  Rachael - their Bexley Twofold support worker guided and supported them through this move and created a new professional working relationship with the staff at Optima Park.
The staff here soon realised how well Sam and Paul worked so introduced them to new tasks including making small repairs and cleaning all types of wheelchairs. Sam also spends one day a week as a driver's mate going into people's homes and helping to set up and explain the equipment.
Rachael watched their confidence grow in this new environment. Both Sam and Paul thrive in their job role as the repetitiveness and structure of the tasks is very suited to people with a learning disability.
In 2021 Inspire community trust approached Twofold about a further job role for someone new. Along came Alex - training in the art of cleaning dynamic mattresses. A year on and Alex has proved an asset to the company and takes great pride in his work and everything he is achieving.
Earlier this year Sam and Paul increased their hours to full-time to meet business needs which is proving to be very successful for both them and the employer.
In October 2022 a 4th Twofold client was employed working 8 hours a week in the decontamination area.
Inspire Community Trust are due to move their decontamination facility to larger new premises in Sidcup in the coming months - their commitment to Twofold has been amazing and now Sam, Paul, Alex and Adam are all sustaining meaningful, paid employment which could not be achieved without an inclusive and supportive employer who were willing to give them the opportunity.
We wish them well in their move - exciting times ahead.
A huge thank you to Caroline and Kay and Inspire Community Trust for all their dedication, belief, encouragement, support and trust they have given to our clients and the amazing relationship that Rachael has created to give support to all parties.
A fabulous success story and Bexley Twofold wish them every success in their move to new premises.